Progressive, bifokale linser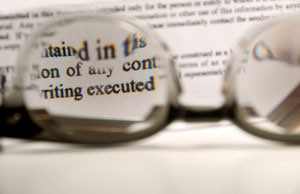 Progressive linser, også kalt multifokale og bifokale linser, passer for mennesker med alderslangsynthet (presbyopi). Dette rammer nesten alle middelaldrende og kjennetegnes ved vanskeligheter med å fokusere på lesestoff på kort avstand. Progressive linser gir ulik styrke til ulike avstander.
Bifokale linser, i motsetning til briller, har tradisjonelt ikke vært spesielt populære. De krever en del tilvenning, og mange synes de er for vanskelige å bruke. Dette har endret seg de siste årene i takt med produktutviklingen, og i dag blir de mer og mer brukt. Mange optikere deler ut gratisprøver av bifokale linser slik at man kan prøve dem ut før man kjøper dem.
Multifokale kontaktlinser inkluderer bifokale linser (med to styrker) og linser med mer enn to styrker. I en asfærisk linse, er styrken i midten av linsen annerledes enn styrken på sidene av linsen (slik som i progressive briller). En konsentrisk linse, derimot, har separate ringer av styrke. Denne typen linse kan brukes både for å avhjelpe lesing og for å se fjerne objekter klart. De er tilgjenglig som månedslinser eller endagslinser.
Linsepriser.no gir deg oversikt over beste priser på progressive linser, samt oversikt over leveringstid, fraktkostnader og betalingsmuligheter for de største butikker for linser på nett.
Tweet